Due to the Freedom of Information Act (FOI), the FDA makes their inspection results available to the public. Very rarely, however, the public gets informed about inspection results of European supervisory authorities. The MHRA is a very positive exception from this rule. John Taylor from the British supervisory authority MHRA presented inspection findings of his authority at the ECA event "How to Pass EU and FDA Inspections - GMP Compliance Auditor", held in Barcelona from 04 to 06 October 2006.

The MHRA set the frequency of inspections of UK manufacturers (700) to 2 years and that of third-country manufacturers (300) to 3 years.

Inspection findings are classified by the MHRA into the categories "critical", "major" and "others". Here, "critical" characterises a deficiency which has produced, or leads to a significant risk of producing either a product which is harmful to the human or veterinary patient. A combination of "major" deviations indicating a critical system error are also classified as "critical".

A "major" deficiency could or would produce a product that is not in compliance with the marketing authorisation. Or it stands for a combination of "other" deviations indicating a system error or repeated "other" deviations. A deficiency related to a Qualified Person failing to carry out his/her legal responsibilities is also rated "major".

In the category "other", deficiencies can be found which cannot be classified as "critical" or "major", but still indicate a departure from GMP.

In the top-ten list of "critical" and "major" deviations found in all inspected areas (including third countries, wholesalers, contract labs), findings regarding the quality system rank first and second (see illustration 1). This is similar to recent FDA findings.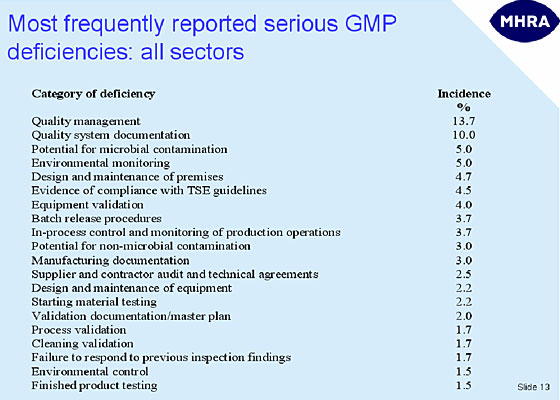 Illustration 1

Examples for critical GMP deficiencies have been for example:
Potential for microbial and non-microbial contamination
Product is inspected and released by the warehouse supervisor who has a stamp of the QP's signature
Batch number and expiry date checks are no longer carried out by a designated responsible person
John Taylor also presented a trending for all sectors inspected (Illustration 2)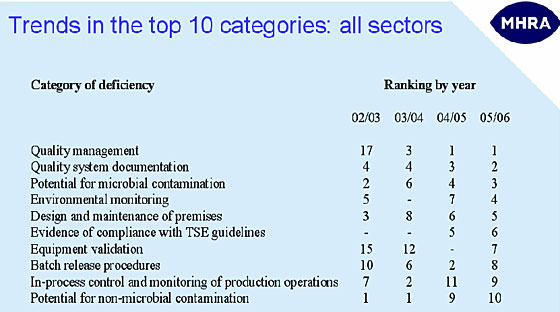 Illustration 2

GMP deviations in third countries are often rooted in the ignorance of European GMP rules. Illustration 3 lists these deficiencies, illustration 4 shows their trends.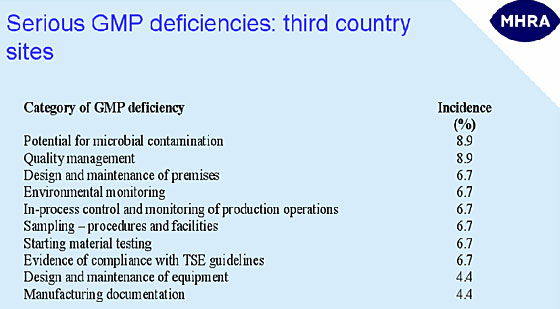 Illustration 3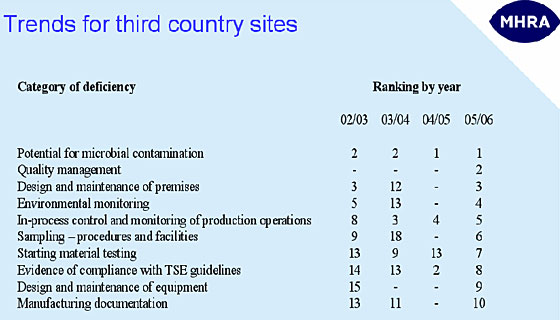 Illustration 4

Another interesting fact are the serious Good Distribution Practice deviations. As in the previous years, temperature control and monitoring had the most deficiencies.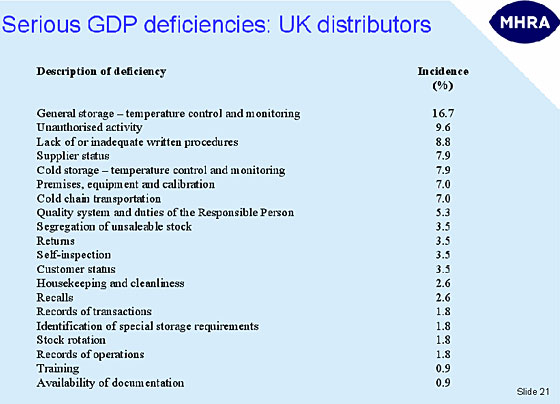 Illustration 5

With regard to deficiencies in the manufacture of investigational medicinal products, the QM system is also listed in the top 3 (see illustration 6).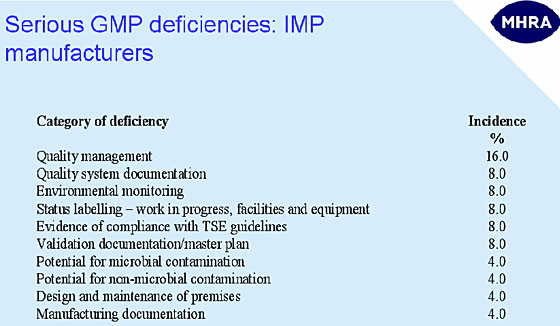 Illustration 6

In 2005/ 2006, the MHRA conducted 15 inspections based on part 2 of the EU GMP Guide. The top 5 major deficiencies were:
Laboratory Controls
Process Equipment
Quality Management
Materials Management
Production and In-Process-Controls
Author:
Wolfgang Schmitt
On behalf of ECA