To change the unfavourable competitive situation for the European pharmaceutical industry the European Compliance Academy (ECA) initiated a Rapid Microbiological Methods (RMM) Working Group. The group brought together 11 representatives from the European Pharmaceutical Industry and the German Federal Agency for Sera and Vaccines, the Paul-Ehrlich-Institute (PEI); the European authorities will also participate. To accomplish its goals it will support the industry to increase drug quality and reduce costs by implementing new technologies as rapidly as possible. On the other side the group will also provide regulatory agencies sufficient information within a documented framework on the new technologies to allow a rapid and simplified decision making process.

In its inaugural meeting in early June at the PEI in Langen, Germany, the working group reviewed the current situation of RMMs in Europe and defined a work plan.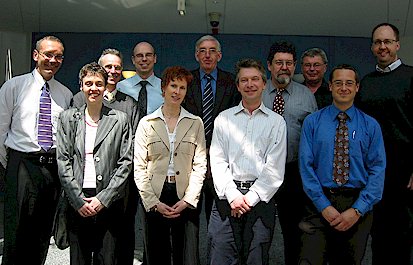 The photo shows from left to right:
Dr Paul Newby, GlaxoSmithKline; Dr Christina Bruntner, Pall Life Sciences; Dr Robert Johnson, Dialogue; Dr Thomas Lukow, Novartis Behring; Elisabeth Jander, Pall Life Sciences; Mike Edgington, Director for Regulatory Affairs (ECA); Dr Thomas Mikosch, Centocor; Dr Klaus Haberer, Compliance Advice and Services in Microbiological; Dr Thomas Montag, Paul-Ehrlich-Institut; Dr Sven Deutschmann, Roche Diagnostics; Dr Ulrich Herber, Concept Heidelberg

One of the current issues the group identified is the lack of standardisation for the submission of RMMs. The group also considers the integration of certain methods into the European Pharmacopoeia chapter 5.1.6 as critical because it possibly sets a wrong focus on these tests only. In addition, the use of RMMs for marketed products is discouraged by the Type II Change effort. The group also voiced concerns about the inappropriate methods occasionally requested by the authorities - like classical EP sterility tests for cell therapy products. In general it sees a clear forward path for using RMMs for new submissions.

To develop a work plan also representing the industry's point of view the group conducted a survey in one of ECA's Masterclasses and over the internet. The result representing close to 40 major European pharmaceutical companies and biotech start-ups across Europe showed that many companies plan on introducing RMMs in the next 1-3 years, and that most of them want to apply them for environmental monitoring and to focus on quantitative methods. Most companies also expressed that there's not enough regulatory support to drive a change quickly and that a clearer regulatory guidance would accelerate methods introduction. According to the survey companies also perceive the approval process as complex, thus delaying introduction. In that respect a clear expectation for adopting RMMs on the authorities' side would strongly influence many companies' thinking.

To help both authorities and industry get a better understanding of the requirements for the introduction of RMMs and to provide them with guidance based on case studies and available experience, the group will establish a Best Practice Guide. In two main chapters the guide will concentrate on traditional drugs and new drugs with their particular aspects and requirements. "We also want national agencies and inspectorates to be involved. We'll thus plan on discussing first drafts with representatives from EMEA, EDQM and national authorities", said Mike Edgington, Director for Regulatory Affairs, ECA. To share information from the guide with both sides the ECA will also organise webinars and courses. In addition the group plans on publishing articles in European pharmaceutical industry publications.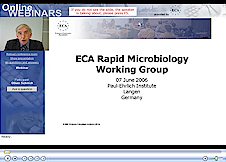 To find out more about the Working Group, a GMP Webinar was recorded on 7 July 2006 at the ECA Advisory Board Meeting. You can watch the recorded Webinar for free. All you need is a fast internet connection, a sound card in your PC and a Media Player like Windows Media Player or the RealPlayer. Start Mike Edgington's presentation.


Further, learn more about current developments in microbiological quality control in the ECA Webinar Harmonisation of EP, USP and JP on 8 November 2006 from 13.30 -15.00 p.m.
Prepared by:
Dr. Ulrich Herber
On behalf of the European Compliance Academy (ECA)

If you are interested in contributing to the RMM Working Group, please send a mail to
info (at) gmp-compliance (dot) org.