In his first webcast Dr Robert Johnson, recently appointed Chairman of ECA's RMM Working Group, gives an overview about current and future activities of the group.
After the unexpected death of the group's first Chairman Mike Edgington, Robert Johnson will follow Mike's vision to make the RMM Working Group a forum for the sharing of knowledge, expertise and practical experience in using RMMs.
Therefore, the activities of the group focus on:
"Best Practice Guides" for all RMM technologies
Awareness of new and innovative RMM technologies.
Meetings (conferences / user groups) to network on RMMs
An agreed (Regulatory / Industry / supplier) methodology for implementation of RMMS into routine use.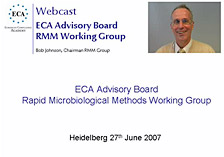 To get a comprehensive overview about the Working Group's plans for the future, please watch Robert Johnson's video address. All you need is a fast internet connection, a sound card in your PC and a Media Player like Windows Media Player or RealPlayer.
Start Robert Johnson's webcast here.

If you want to see the Webcast from the Advisory Board Meeting presented by ECA Chairman Daniel Scheidegger please go here.